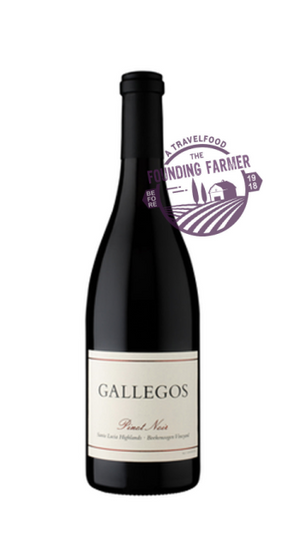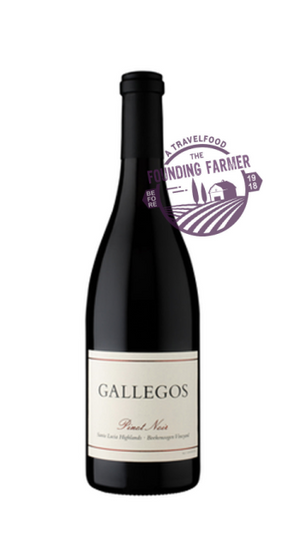 On Sale
GALLEGOS WINES Pinot Noir, Santa Lucia Highlands

WHY WE LOVE IT: 

Robert Parker rated winemaker!
Big bold jammy Pinot for a change
Santa Lucia Highlands in Monterey County
3rd Generation Mexican American grape growers
WHAT WE TASTED: Rich and layered flavors of ripe, red fruits are beautifully balanced with fresh acidity. Aromas of strawberry, rhubarb pie, cranberry, and cherry. Velvety tannins deliver a lovely, full bodied wine with a smooth, silky finish.
WINEMAKER: Eric and Ignacio Jr Gallegos
 AVA DESIGNATED: Santa Lucia Highlands, Monterey County
WHAT WE PAIRED:
Baked portobellos stuffed with fennel sausage, herbed breadcrumbs
Roasted lamb shanks, summer gremolata, mascarpone polenta
Five spice roasted duck, homemade plum sauce, basmatti rice
PERSONALITY: Third Generation Mexican American grape growers raised in Napa now making delicious wine.  The vineyard is a combination of superior clones, rocky well-drained soils, meticulous viticulture practices, foggy mornings and sunny afternoons moderated by cooling evening breezes.  Consistent award winning vineyard. The grapes are picked and trucked at night to Napa where they are crushed. The Gallegos Family tend high end vineyards in Napa and are highly sought out for their experience of farm to table. All wine is made in the vineyard! The live that mantra each day
TECHNICAL:
Barrel aged in aged French oak 25% new, 75% neutral
Vineyard designated and grown by the famed Boekenoogen Vineyards
200 cases, award winner 
*Ground shipping in states where allowed. Temperature control shipping in effect May 1 through Sept 15 to protect these fine wines. A small fee will be added to each shipment. You may choose 2 day or overnight air also*. Our summer solutions overnight shipping rate is the best deal!