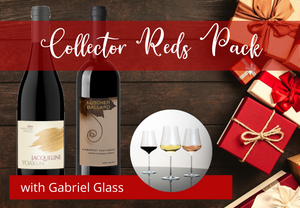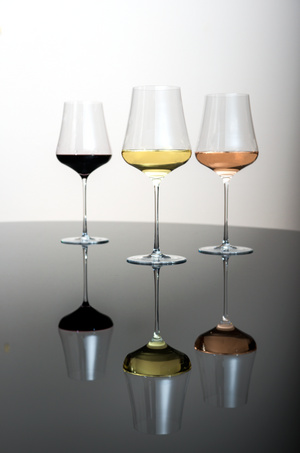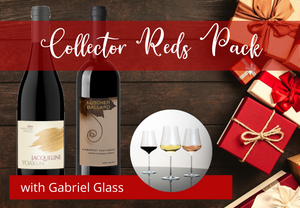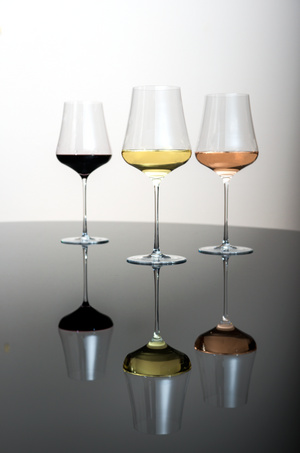 On Sale
Collector Reds with Gabriel Glass
For discerning oenophiles we present wines from two women with wine sense. Robert Parker rated wines and winemakers so we've put them together along with the 'one for all' Gabriel wine glass. Superb.

Due to the extremely small quantity of rare wines crafted by our independent winemakers, we may have to substitute a wine. But it will be similar and fabulous!
Luscher Ballard Cabernet Sauvignon, Spring Mountain*
WINEMAKER: The Legendary Kongsgaards
WHAT WE TASTED: Dense purple color, dark currants and cassis, with blackberry and blueberry and spice. A firm acidity and long finish of sweet tannins, chocolate and dark fruit.
Jacqueline Yoakum Pinot Noir, Oregon (vinified in Napa)*
WINEMAKER: Jacqueline Yoakum. Consulting winemaker Italics, Buhman, Greggarious. Alumni of Littorai, Schramsberg, Keller, Stags Leap Wine Cellars, and Le Cadeau.

WHAT WE TASTED: Tawny cranberry Oregon color with heirloom french plum tart, lavender and chocolate mint nose and a lingering sweet pea floral note. On the palate, a nice bit of herbal, cinnamon and kirsch, while crème brulee emerges. Oak is subtle and integrated in this elegant and supple wine. Drink now or hold and age for the next 10 years.  
 *WE MAY HAVE TO SUBSTITUTE FROM TIME TO TIME DUE TO SMALL QUANTITIES*
Gabriel Glass StandArt Wine Glass
WHY WE LOVE IT:
A one for all wine vessel
Elegant yet seamless for durability
ABOUT GABRIEL-GLAS: 
Gabriel-Glas is the brainchild of the well-known Swiss/German wine critic René Gabriel.  While authoring the German version of The Wine Bible (Wein Bibel), he was seeking a glass with the ideal shape for tasting each style of wine. 
Not finding a glass that performed to his requirements, he created Gabriel-Glas, a "universal" lead-free crystal glass elegantly shaped to fully express the wine it delivers.
The StandArt glass is machine molded with a wider base at the bottom of the glass and a conical shape at the top, designed to "drive" the bouquet and flavors of wine. The glass is wonderfully balanced, durable yet elegant, space saving, and dishwasher safe.     
*Ground shipping in states where allowed. Temperature control shipping in effect May 1 through Sept 15 to protect these fine wines. A small fee will be added to each shipment. You may choose 2 day or overnight air also*. Our summer solutions overnight shipping rate is the best deal!*