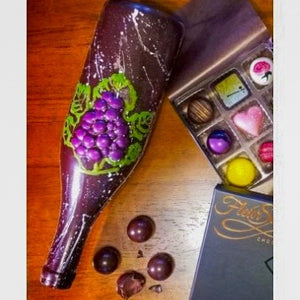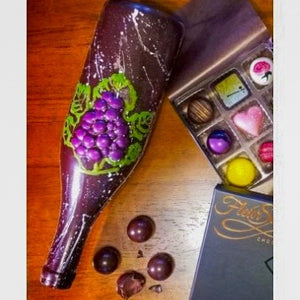 On Sale
Wine & Chocolate Pairing Virtual Tasting
Our Wine and Artisan Chocolate Virtual Tasting is a fun and educational time spent learning about world class chef Robert "Buttercup" Nieto* and how he crafts these creamy chocolates to specifically pair with wine.
Join us in the fun along with winemaker Eric Gallegos of the Gallegos Family* and Martin Bernal- Hafner of Topel Wines*. Eric, a 3rd generation Mexican American grapegrower walks us through their Yountville Chardonnay - all citrus and cream itself- while Martin, who trained in Hermitage and under Paul Hobbs - helps us with his gorgeous berry and pepper Syrah Noir. 
It's actually hard to pair Chocolate with Red wine! Learn how with this package:
1 Box of Fleur du Sauvage Artisanal Chocolates (4-5 deluxe bon bons to enjoy as we guide you). Meyer Lemon and Mexican Chocolate for the Chard and Lavender and Rosemary for the Syrah. * Note: we may have to substitute a chocolate from time to time due to seasonal and other available ingredients, as well as the wine brand due to small quantities* 
1 Bottle Gallegos Yountville Chardonnay: Opens with aromas of crisp apple, pear, mango and a hint of pineapple while those rich flavors continue coupled with crisp minerality and balanced acidity. Soft finish with notes of luxurious créme brûlée*
1 Bottle Topel Wines Syrah Noir: Dark garnet color, beautiful nose, sweet mouthfeel. Should we go on? Ok. Violets, bay leaf and currant aromas with meaty, leather, red fruits and pepper mark the palate. Uber balanced with a lovely, long finish on this wildcrafted beauty* TOPEL SYRAH IS SOLD OUT FOR SOME TIME DUE TO LOWER HARVESTS FROM THE FIRES. WE ARE SUBSTITUTING TOPEL CABERNET.*
1 Link to our Recorded Video of the Tasting to Guide you and your friends!
Of course, we'd love to chat with you about putting on your own personalized virtual wine tasting. Let's get together with a winemaker or two. Join us for some fun and loads of wine knowledge.
*Sometimes we have to substitute for the wines or chocolates based on the super small production of both. The chocolates are made fresh so delivery time is extended*