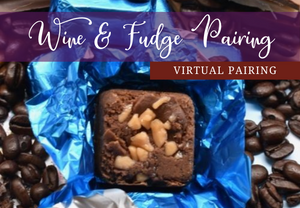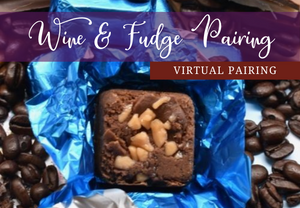 On Sale
Wine & Fudge Virtual Tasting
Our Wine and Artisan Fudge Virtual Tasting is a fun and educational time with a distinctive worldly flair.
Join us in learning along with two of our highly knowledgeable independent winemakers and exceptionally regarded pastry chef Hilary Saporta of 'A Flair For Fudge."
Hilary worked as a Marketing Director for a large corporation for most of her career and after downsizing decided to live her passion. Her mantra is love what you do and you'll love how you live! She combines her passion for sweets and travel to make exotic fudge flavors such as Cuban Coffee Toffee and dark chocolate Italian black truffle.
She specializes in pairing fudge and wine and has done so on behalf of the prestigious American Fine Wine Competition, numerous Chocolate Festivals and private corporate tasting events. 
It's actually hard to pair Sweets with Red wine! Learn how with this package:
1 Box of artisanal fudge (chosen based on wine selection - typically 4 gorgeous pieces) 
1 Bottle White wine or Rose (your choice) 
1 Bottle Red wine (we like Syrah but Pinot and Cab are perfectly acceptable too)
Tasting notes, instructions and the Zoom link!
Of course, we'd love to chat with you about putting on your personalized virtual wine tasting. Call 707 948-6078 or info@wildcraftedwines.com
Also cookies, fudge and chocolates are made fresh to pair so shipping times are extended - typically 2 weeks. We like to plan a month in advance of the event, though we can always ship by air.