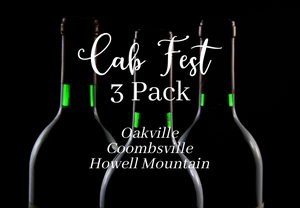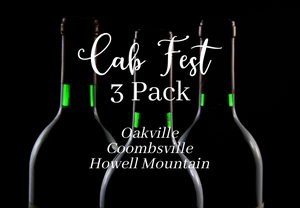 On Sale
CAB FEST - Cabernet Sauvignon Spotlight
The Allure, Highlands Howell Mountain and Luscher Ballard Cabernet Sauvignon ##we may have to substitute due to such small quantities
Explore Cabernet Sauvignon through it's appellations. Coombsville, St Helena, Howell Mountain, Spring Mountain and Oakville spotlight. Some of Napa's greatest and cultiest Cabs come from these districts. 
We're honored to pack two to three heavy hitters to explore the range and depth of these babies.  

##We may have to substitute from time to time due to such small production and we love featuring something new like a dynamite Mendocino Cabernet made from a Paul Hobbs disciple. Wow! Turn this into a Wine Club for twice a year shipments by selecting that option below##

The Allure
WHAT WE TASTED: Instant pop of dense berry then cigar box like notes kick in. Cassis in spades and not bowled over with excessive tannins. It is so elegant through the natural fermentation like a textured lattice that holds the fruit and lifts and carries you to each height of new taste revealed if you linger. Because it will indulge.
Long Meadow Ranch (St Helena) and Bennett Ranch (Coombsville) fruit as in the best of both worlds
Highlands Howell Mountain
WHAT WE TASTED: Full and powerful nose and deep ruby/garnet color in this 100% Cabernet Sauvignon delighted us. Vibrant aromas of cherry, red berries, vanilla, and gentle oak on the nose and a chocolate, cream-like finish on the palate. With a full and lush sense of sweetness on each sip there is an earthy, smoky black berry and even more cocoa cream finish. Sophisticated but very friendly.
PERSONALITY: From a Silver Oak alumni partnering with a long time high-end grape grower for Caymus and Chateau Montelena. These gents know where the best vineyards are.

Luscher Ballard 
WHAT WE TASTED: Spring Mountain gem. Dense purple color, dark currants and cassis, with blackberry and blueberry and spice. A firm acidity and long finish of sweet tannins, chocolate and dark fruit.

PERSONALITY: The Legendary Kongsgaards; Aaron Pott, Jean Hoefliger; Greg La Folette  
*Ground shipping in states where allowed. Temperature control shipping in effect May 1 through Sept 15 to protect these fine wines. A small fee will be added to each shipment. You may choose 2 day or overnight air also*. Our summer solutions overnight shipping rate is the best deal!