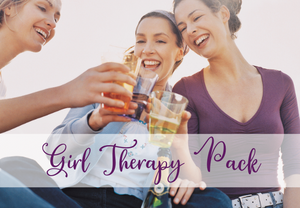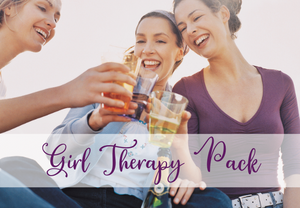 On Sale
Girl Therapy Wine Tasting Pack
Wine | Fun | Love - These wines were featured in the Galentine Girl's Therapy Virtual Expo, Feb 12. We thought it was cool then and decided to keep them available. Order wines now  and taste on your own with notes or schedule a virtual tasting with us later. 
*We may have to substitute a wine now and then due to small quantities*
Two of our favorite winemakers - Nori Nakamura from Noria Wines and Jacqueline Yoakum from Magnus Wines - are incredibly knowledgeable as they make high end wines from Napa and Sonoma in their day jobs.
We love their private winemaking juice! 
Here's what in this package though we are happy to substitute based on your preferences. Let's chat about that!
1 Bottle Noria Wines Sauvignon Blanc: Created Especially to Pair with Delicate and Japanese cuisine ingredients to bring out the lively flavors of the wine. Clean, softer, vibrant, fruity and smooth, like Ginjo style of sake. With 3% Gewurtzraminer, a lovely blossom of delicate fruit hits the nose with bright aromas of grapefruit, lime, pear, a hint of lychee, orange zest, bay leaf, flint stone, lemon grass, and pistachio.
1 Bottle Magnus Bravado Merlot:  This is Merlot cross dressing as a Cabernet from across the pond from France. Incredible. Blown away by candied violets, strawberry and cranberry all over in this lively, vibrant wine. Seamless oak. Rich and full, have your stuffing with meat!
Tasting notes, food pairings included. 
Of course, we'd love to chat with you about putting on your personalized virtual wine tasting. Let's get together with a winemaker or two. Join us for some fun and loads of wine knowledge. Call 707 948-6078 or info@wildcraftedwines.com
*Summer shipping in effect May 1 through Sept 30. We will call you about temperature control options*