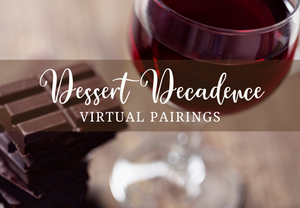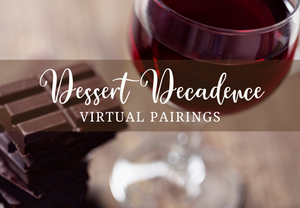 On Sale
Sweet Wine & Chocolate Pairing
Wine | Chocolate | Love - Join us online for some lovin. Randy Pitts of Harvest Moon wines and Chef Patty Doyle of FARM Chocolates bring the sweet.
Along with Terry & Laura, we're ready to answer your questions as we taste along with them. Randy is quite the character and has been making very special Sonoma wines for many years.  
Chef Patty makes her 'craft confections' based on inspiration from her Mom, who taught her how to cook at age 9. Once she hit upon Ruth Reichel's chocolate book, she was hooked.
Here's what in this package though we are happy to substitute based on your preferences. Let's chat about that!
1 375ml size Bottle Sweet White Late Harvest (we usually pick Gewurtraminer but we have Chardonnay too). Like an ice wine, from only 4 little acres on the Pitts property that has been in the family for years. Sweet and intense nectar of rose petal, peach and pear.
1 375ml Bottle Sweet Red Late Harvest (we pick Zinfandel). A balanced Zin, how about that? We mean less sugar, not syrupy, but lots of Zin liveliness.
1 Box of exquisite Farm Chocolates to pair
Tasting notes included. Happy V Day, B Day, and all the other days  
Of course, we'd love to chat with you about putting on your personalized virtual wine tasting. Let's get together with a winemaker or two. Join us for some fun and loads of wine knowledge. Call 707 948-6078 or info@wildcraftedwines.com