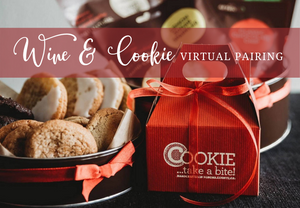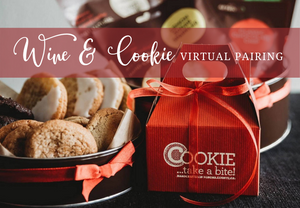 On Sale
Wine & Cookies Virtual Tasting
Our Wine and Artisan Cookies Virtual Tasting is a fun and educational time spent learning about pairing not so sweet, yet thoroughly delicious cookies made to pair with wine.
Join us in the fun along with winemakers chosen by you (or us if you'd like) and highly regarded pastry chef Tracy Mattson of 'Cookies...Take A Bite."
Tracy has worked for James Beard and Michelin starred Chefs in DC and Calif and even staged around the world with Joel Robuchon in Vegas, Le Bernardin in NYC and Café Diglas in Vienna. Her mantra is not too sweet on the cookie so it doesn't overwhelm wine. Plenty of rich chocolate cookies to go around for the chocolate fix.
It's actually hard to pair Chocolate with Red wine! Learn how with this package:
1 Box of artisanal cookies (chosen based on wine selection - typically 4-6 gorgeous cookies) 
1 Bottle White wine (your choice) 
1 Bottle Red wine (we like Syrah but Pinot and Cab are perfectly acceptable too. 
Here's two recent delicious combos:
Harvest Moon Late Harvest Gewurtztraminer with Ginger honey syrup cookie and oatmeal cranberry cookies.
Astorie Pinot Noir with Chai spice shortbread cookie and Chocolate cherry cookie.
Wr have a minimum of 10 tasters for this package. 
Of course, we'd love to chat with you about putting on your personalized virtual wine tasting. Let's get together with a winemaker or two. Join us for some fun and loads of wine knowledge. Call 707 948-6078 or info@wildcraftedwines.com
*occasionally we will need to substitute due to such small quantities of wine. Also cookies are made fresh to pair so shipping times are extended - typically 2 weeks*