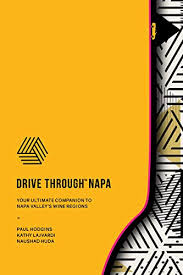 Drive Through Napa, Your Ultimate Companion to Napa Valley's Wine Regions
by Paul Hodgins, Kathy Lajvard, Naushad Huda
Travelfood Wine Lovers save $2 off the price of the book. Use code: travelfood here: http://drivethroughnapa.com
Review:
With almost 30 years in the wine business, and as past editor of various wine magazines, I've read a lot of wine books.
I still read them. Cover to cover. Not electronically. It's kind of like pulling a cork - I appreciate from where it came.
I also appreciate the short, tight and spot on writing in this dynamite little soft cover filled with maps, charts, stats and the wonderful history of Napa Valley. Albeit, the short version.
The most "telling" part of this book, and I say that because the authors smartly let winemakers tell the story of the AVA (American Viticultural Area) and what excites them the most about making wine from a distinct and certain place. 
For example, the legendary Celia Welch, discusses the incredible diversity of the Yountville AVA.and 'the one common trait of natural balance of tannins and acidity because of the moderating influence of nearby San Pablo Bay."
It's that kind of short but sweet tell that made me want to jump in the car and explore the latest what's happening up on Atlas Peak no less!
Napa Valley is a collection of AVAs - 16 of them and counting - and exploring tasting differences between them is a delightful way to learn about wine, vineyards and the winemakers that continue to make rare and elegant juice.
Travelfood Curated Wines seeks out and brings them to you. After all, legendary has to begin their story somewhere.
Here's several we believe represent what the AVA(s) is known for and the independent winemaker we support:
MAGNUS The Allure Cabernet Sauvignon (St. Helena and Coombsville)
BUHMAN Chardonnay (Carneros)
METZKER Cabernet Sauvignon (Spring Mountain)